West-Japan Flood Disaster Relief Update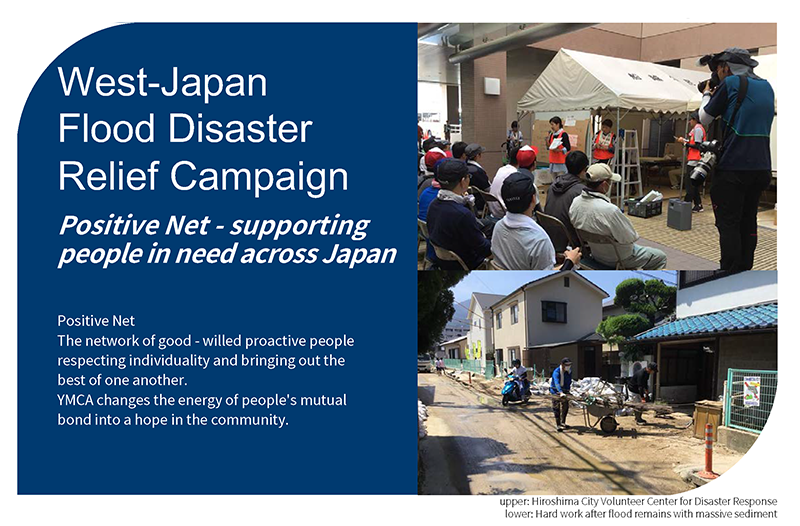 Unprecedented heavy rainfall in July in Western Japan brought devastating floods and landslides. 220 lost their lives and 9 are still missing as of July 31st. And 3,700 people are still forced to stay at shelters as of August 2nd.

Together with Hiroshima YMCA and YMCA Setouchi both in most affected areas, Japan YMCA will collectively work together in affected areas for relief work and long-term rehabilitation as follow:

1. Sending YMCA staff to local volunteer center for disaster response to support management.
2. Organizing refresh and care program (ex. Camping Program) for affected children and families.
3. Sending volunteers for relief work (ex. Sludge Scraping) to affected areas.
4. Organizing childcare programs at shelters by YMCA professional staff volunteers.
5. Sending YMCA professional staff for nursing care and health care of affected people and volunteers.
6. Collaborating with other NGO for Psychological First Aid for affected Children.

Estimated total expenditure: 20 million USD
YMCA Japan extends its heartfelt gratitude to the YMCA family all around the world for the expression of solidarity received during the World Council in Chiang Mai and later.

Japan YMCA West-Japan Flood Disaster Relief Campaign(PDF)

Positive Net Fund for West-Japan Flood Disaster Relief Campaign Your support is necessary to organize programs to help affected people. The National Council of YMCAs of Japan will receive donations for Japan YMCAs effort as outlined above until October 31st.

Bank detail Name: The National Council of YMCAs of Japan
Address: 2-11 Yotsuya- Honshio-cho Shinjuku-ku,Tokyo
Beneficiary Bank: MUFJ BANK,LTD.
Branch Name: YOTSUYA BRANCH
Bank Address: 3-2-1 YOTSUYA SHINJUKU-KU TOKYO
Swift code: BOTKJPJT
Account Number: 051-0111494

Donationas can be made online (VISA, Master) at https://srv.asp-bridge.net/ymca_km/index/


Inquiry
Name of organization
The national council of YMCAs of Japan
ADDRESS
2-11, Yotsuyahonshio-cho, Shinjuku, Tokyo, 160-0003, JAPAN[map]
TEL
(+81)3-5367-6640
FAX
(+81)3-5367-6641
MAIL
Please use our inquiry form