Camps and School Programs
Camps and school programs

Tozanso offers a unique educational concept called Nature Program. We launch many camps throughout the year for both kids and adults. On the other hand various activities are facilitated for groups and educational institutions seeking for camp experience. Please take a look at our concept which will inform you about our education ideas.
What is Nature Program? - One with Nature, one in Nature

"Nature Program" is Tozanso's original educational concept. We set two objectives: one goal is to strengthen bond between modern civilization and Nature. Technological advancement takes precious camp experience away from us which fosters our senses and assists healthy development of our body and mind. Frequent interaction with Nature can lead us to a harmonious coexistence with her. Another purpose is to develop a healthy relationship between people in Nature. We believe that everybody is equally vulnerable and free surrounded by all living things. By placing ourselves in this natural arena we are released from all presiding social conflicts and dilemmas, and can face each other with honest and caring mind.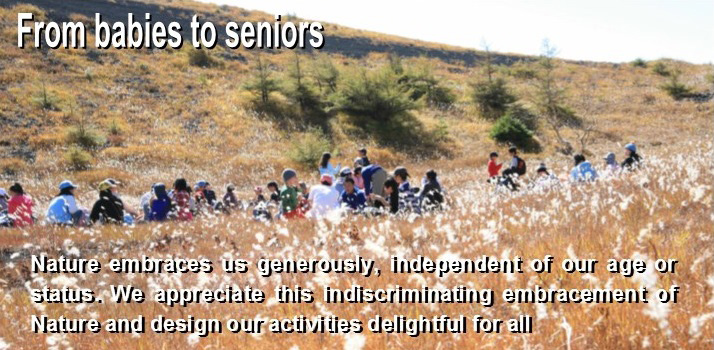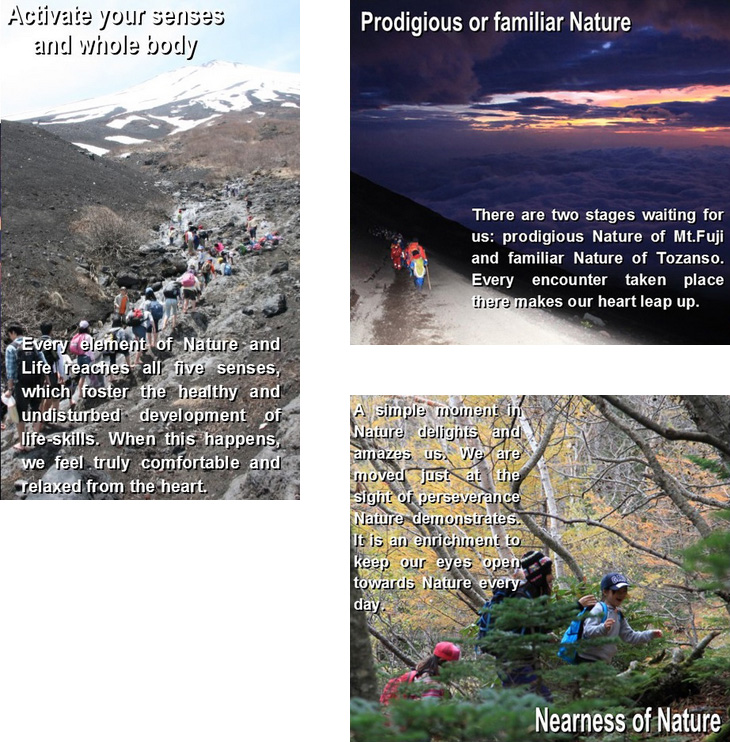 Recommended activities
There are several activities that are frequently chosen and appreciated by many participants. It is also a good opportunity for first-comers to try out these activities.
Fuji-sampo: (Sampo means in Japanese little walk or roaming, where Fuji-san is a composite of mountain's name Fuji and san representing mountain.) This should be a wonderful opportunity to take a glance at the mountain's fascination and enchantment. Basically it is a day-hike that can be managed by every individual independent of age or experience. We also take your expectations in consideration, i.e. whether you prefer a casual hike in woods or a round-trip to one of volcanic peaks.
Sabu-sawa trail: Sabu-sawa is a stream which originates not far from Tozanso. This 3 km-trail leads us to the natural spring of this rivulet and reveals the infallible blessing of Nature as delicious natural water. No need to get wet (you can, if you want) because we keep the route above the water. In a quiet cedar forest this unknown natural spring waits for out visit. (Total duration: two to three hours)

Kaya-nut whistle: Kaya is a type of tree indigenous to the local region. Its nuts are edible and used for many difference purposes. We make a simple but delicate whistle out of this nut. Our Kaya tree produces a plenty of nuts every year.
Fuji-san quiz walk: This activity takes place in Tozanso and gives you a great opportunity to get to know both Tozanso and Fuji-san. Just like in scavenger hunt, small groups search for designated quiz points through our vast landscape and answer questions about Mt.Fuji. Also ideal as a tutorial for Fuji-sampo.
For the full list of activities and details, please refer to Nature Program pamphlet and the price list.
Contact
Our front desk is at your service for reservation from 7 to 19 O'clock. The service in English is not always available. It is recommended to write us in advance per email for any further information and questions.
YMCA International Youth Center TOZANSO
Higashiyama 1052, Gotemba Shizuoka 412-0024 [Google Map]
Tel: +81-550-83-1133
Email: tozanso@ymcajapan.org
Privacy Policy
Please read Privacy Policy to get familiar with our policy for copyright and privacy.